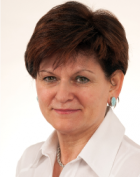 Professor Ewa Latoszek is a Full Professor and the Director  in the Jean Monnet Chair of European Union , the Socio- Economic Collegium of Warsaw School of Economics. She is also the professor at the Warsaw Polytechnic, Collegium of Economic and Social Sciences.  Fields of her teaching and scientific interest are: European integration, the EU policies,  Poland in the European Union.  
Professor Latoszek is involved in numerous national and international research carried out on: organizations, development policy and financial assistance for less developed countries, international integration process, European integration process in different areas including chosen aspects of Poland's adaptation to European Union membership and to practice of the Internal Market. In her research works she put a lot of attention to the most important aspects of European integration process with special attention to its international relations and the regional policy, that can be observed in her publications and, among others in the subject of bachelor and master's thesis which she promoted, both at Warsaw School of Economics, and other state and private universities. The second area of her current research interest focuses on international organizations, including NGOs and their role in the world economy. Her outstanding merits and more than 200 publications are related to European Integration. As an expert she participated in the preparation of Polish accession to EU. 
She is a coordinator of many national and international projects. It is worth to  indicate that professor Ewa Latoszek was one of the first academics in Poland receiving the Jean Monnet and PHARE grants. In 1994-99 she coordinated three Jean Monnet projects ( including Module and Research Project). In 1997/98 she was the coordinator of  Phare Fiesta financed by the European Commission. She also coordinated  the EUintegRATIO project under the EU 7 Framework Programme  in 2011/12.  Professor Latoszek strongly contributed to establishing the cooperation of the Warsaw School of Economics with Ernst & Young in the field of education in Poland. Main functions in the past five years: the Deputy Dean at Warsaw School of Economics, Deputy Rector at Olympus University , the Director of Post diploma Studies conducted by SGH in cooperation with Ernst&Young, the President of PECSA ( Polish European Community Studies Association), the Member of ECSA network, the vice-president of a Steering Committee of the Research Alliance for Development, the World Bank (RAD). 
A member of different national and international bodies including  the Committee of Economic Sciences of Polish Academy of Science. Since 2012 Professor Ewa Latoszek has been registered as the expert of 7 Framework Programme Projects. She promoted more than 400 BA and  MA works and 5 PhD works- most of them on European topics. In 2013 she received Jean Monnet Chair and became an expert in the Advisory Group in Horizont 2020 Programme. Since 2013 Professor Ewa Latoszek has been nominated to Horizont 2020 Advisory Group for SC-6"Europe in a changing world- Inclusive, Innovative and Reflective Societies". Since May 2014 she has been nominated to Horizont Ad Hoc Advisory Group "Science with and for Society". In October 2014 she was elected Vice-President of the European Community Studies Association.