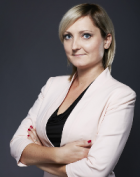 Professional experience: Doctor of EU law. Head of the Chair of the Administration Science at the Faculty of Administration and National Security of the Jacob of Paradyż University of Applied Sciences in Gorzów Wielkopolski. Expert on EU Law and Antidiscrimination Law.
Membership: PECSA, PSPE, PTSE, scientific committee of the European Studies Journal (ECSA-Moldova).
Research interests: principle of gender equality, EU Internal Market, AFSJ, CFSP.
Didactic experience: EU law, Human Rights Law, EU Structural Funds, CFSP.
EU-funded projects experience:
01/09/2014 – 31/08/2015
Member of the project team/coordinator of the legal working group in the project "Facing the Challenges in European Union. Re-thinking of EU Education and Research for Smart and Inclusive Growth/EuInteg";
01/09/2013 – 31/08/2014
Member of the project team in the project "Academy of Young European".
Scholarships (i.a.): Erasmus+ Staff Mobility for Teaching 2015/2016, Alpbach Summer School on European Integration 2012 Scholarship.
The Key Staff Member undertaking research activities, responsible for co-organizing the congress in Gorzów Wielkopolski in 2018, included in writing books & articles, supporting the E-CEWSE Centre proper working, TWGs Member, supporting the organization of all other events and being the wice-manager of roundtable debates.